«Elegance and security, hand in hand»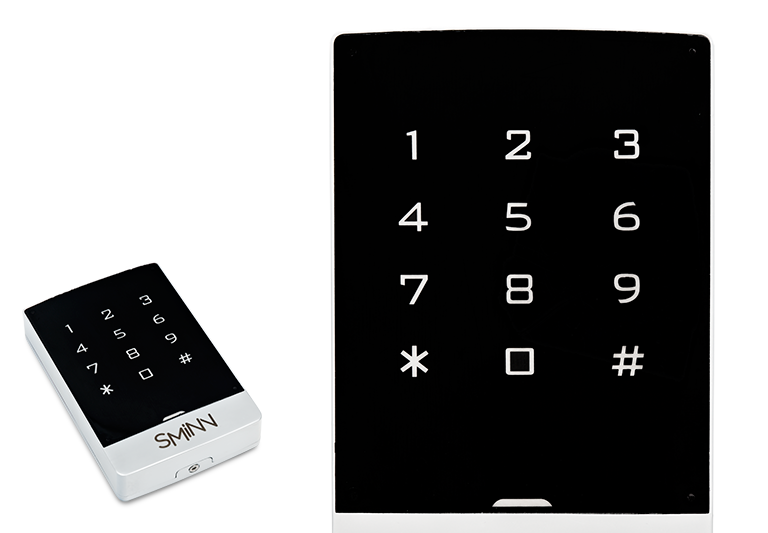 Capacitive keypad with the possibility of stand-alone operation, Wiegand or RS485 output for integration with access control units.
Access security
It is possible to set up a temporary lock after several unsuccessful access attempts to prevent malicious agents from obtaining access codes by brute force. It also allows you to program codes of up to 12 digits, 999,999,999,999,999 combinations, depending on the model. In this way, it provides security for your installations.
Multiple versions
The KB INOX touch keypad can store up to 500 numerical codes in its internal memory, and has a relay that will be activated when a valid code is entered. In addition, it can be connected to another device via Wiegand to transmit the code with which the access request has been made. There are also versions without internal memory with the possibility of connecting to SMINN access controls.
Energy efficiency
The equipment remains idle until a key is pressed and the code is sent. After a configurable time, it automatically returns to this state. It is possible to deactivate the backlighting to further reduce consumption.
Several configuration possibilities
Various aspects of keyboard operation can be configured directly from the keyboard using a master password, such as security lock, sleep time, peripheral address and more.
Models
| | | | |
| --- | --- | --- | --- |
| KB INOX | Stand-alone with Wiegand output | 500 users | |
| KB INOX PLUS | For BASE STATION PLUS | No internal memory | |
| KB INOX CA | For network access control | No internal memory | |
Documents
This product contains private resources only accessible by registered users.