«Maximum versatility and cutting edge technology at your service»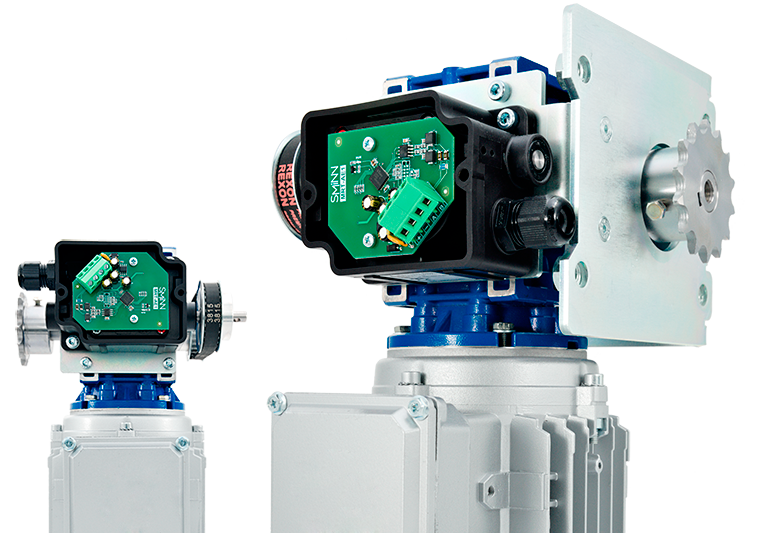 Three-phase 230VAC gear motor for up-and-over doors with integrated absolute encoder
High-performance motor
The MRT230 EA uses a winding optimised for use with a variable frequency drive, giving the geared motor better torque and power consumption characteristics over the entire frequency range.
Precise and safe manoeuvring control
The combination of absolute encoder and three-phase control through a last generation inverter allows a great precision in the movements, the reduction to the minimum of the noise of the door and safety comparable to that obtained with direct current motors.
Adaptable to your installation
Its design makes it easy to change the hand of the gear if necessary, and it can also be moved along the axis to facilitate adaptation to existing installations. Models available without fixing plate or with plate with holes compatible with the MB-24E motor.
Absolute encoder
With the MRT230 EA it is no longer necessary to adjust the limit switches mechanically, as this is done electronically from the control panel.
Models
| | | | |
| --- | --- | --- | --- |
| MRT230-EA-I | 1/2" left gear | Absolute encoder | No plate |
| MRT230-EA-D | 1/2" right gear | Absolute encoder | No plate |
| MRT230-EA-I-MB | 1/2" left gear | Absolute encoder | MB plate |
| MRT230-EA-D-MB | 1/2" right gear | Absolute encoder | MB plate |
Documents