«Control and security to protect what matters most»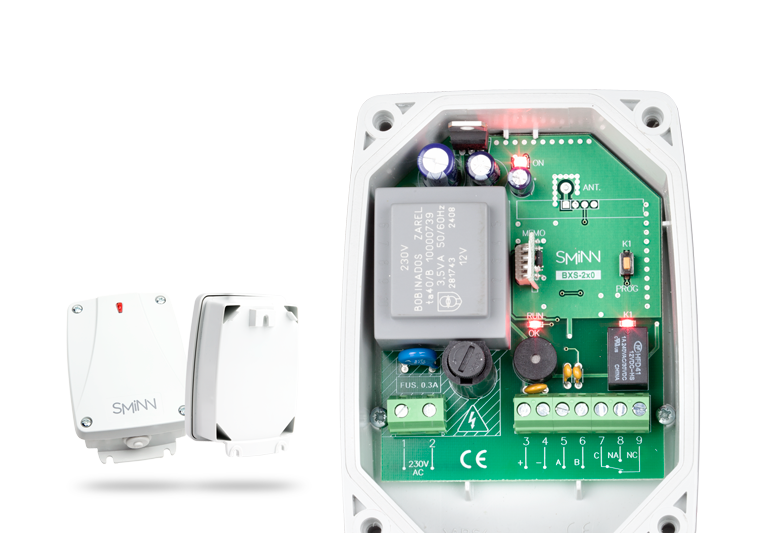 Base Station receiver to manage SMINN keyboards and readers
Secure communication
Communication with readers and keboards is carried out through a solid RS485 bus, allowing long distance connections. It is highly resilient to interferences.
Versatility in installations
BOX S 220 is a base station receiver that manages SMINN keyboards and readers. Thanks to the RS485 bus it allows greater versatility in installations, supporting two keyboards and two readers.
Up to 2000 codes
Possibility of increasing the user capacity thanks to the removable memories of 250, 500, 1000 and 2000 users.
Easier to install
SMINN's BOX S are designed to be easilly installed: with greater binding of the circuit, more room for wiring, easy-fixation system to the wall with three screws and an operation indicator led.
Models
| | | | |
| --- | --- | --- | --- |
| BOX S 220B | RS485 | Max. 35 codes | 230VAC |
| BOX S 220 | RS485 | Removable memory 250 codes | 230VAC |
| BOX S 220-K5 | RS485 | Removable memory 500 codes | 230VAC |
| BOX S 220-1K | RS485 | Removable memory 1000 codes | 230VAC |
| BOX S 220-2K | RS485 | Removable memory 2000 codes | 230VAC |
| BOX S 224B | RS485 | Max. 35 codes | 12-24VDC |
| BOX S 224B | RS485 | Removable memory 250 codes | 12-24VDC |
| BOX S 224-K5 | RS485 | Removable memory 500 codes | 12-24VDC |
| BOX S 224-1K | RS485 | Removable memory 1000 codes | 12-24VDC |
| BOX S 224-2K | RS485 | Removable memory 2000 codes | 12-24VDC |
Documents